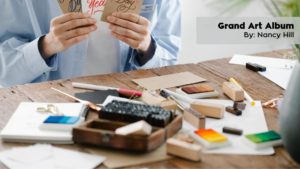 I am the mother of three adult children and the blessed grandmother of five grandchildren. If I had my choice, my family would all live within three blocks of us, but instead they are flung all over the map. Our oldest daughter lives in Boston with two of our Grands, ages 15 and 13. Our middle daughter lives on the Spice Island of Zanzibar in East Africa. She has two boys ages 14 and 12. Our youngest son lives in Minnesota and has one daughter who is almost 14. Because none of them live close by, I have had to come up with creative ways to stay in touch.
One way I do this is through the "Grand Art Album." About once a month I create a 4 X 6 piece of art. I use watercolor, gel pens and collage as my main mediums. On the back of each piece I write a message of encouragement to each of them. When they receive their artsy postcard, they then file it in their own copy of the Grand Art Album. Thinking they might be tiring of this form of communication, I asked my Minnesotan granddaughter what she thought. She told me not to stop because just recently she took out her Grand Art Album in the middle of the night when she was having trouble sleeping. She said it brought her comfort. Her words certainly have motivated me to keep drawing!
This summer we have been lucky enough to have vacationed with all of the Grands. I had a chance to walk one-on-one with each of them and was able to catch up with their busy lives. I heard about their hopes and dreams and even a few of their fears. It gave me a chance to ask each of them how I can pray for them as they begin a new school year. After all, I feel like praying for each of them is one of the most important jobs I have as a grandmother. I am thankful God has given me the opportunity to be a prayer warrior for each of my Grands. As they return to school, this is what I pray:  May my grandchildren always "be strong and courageous" in their character and their actions. (Deuteronomy 31:6). 
How might you be a prayer warrior for your Grandchildren?